The Comedy of Lloyd & Donald
Lloyd and I have been recording things together years before The Out Of Bodies. It wasn't uncommon for us to spend hours in front of a boom box as we committed our impromptu comedy premises to cassette tape. Often Lloyd would take home the raw takes and compile them together with newly recorded commentary, tying the bits together, and present the finished product as a "surprise" gift around the holidays. We'd get a big kick out of listening to what we've done together - this time as the audience - as opposed to the performers!
In 2014 - 2015 I began sifting through those tapes again, transferring them to digital format for the website. In some cases I couldn't help but to do what we couldn't have done back then without difficulty, and that was to do a little post-production work on them just to get them a bit more mass public-ready. We did tend to crack ourselves up considerably, but that was all left intact. To me, that just adds to the enjoyment!
Out Of The Archives
Sort of a bonus supplement to "The Comedy of Lloyd & Donald" tapes, these are miscellaneous songs and bits that defy any coherent explanation.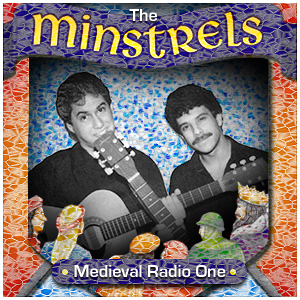 The Minstrels - Medieval Radio 1
Before there were radio podcasts there were The Minstrels. Put aside your coat of arms, grab yourself a flask of ale and listen to the whimsical nonsense of Joe and Donald, those two crazy Renaissance jesters!


Wow Ink-corporated's Abbott and Costello
An ongoing premise we'd return to at any given moment, culled from several comedy tapes, as best as we can decipher this was sort of a take on the real-life Bud Abbott, late in his career (after the death of his comedy partner Lou Costello) when he was almost penniless and forced to work with some cheesy Hanna-Barbera cartoon voice actor, who did a really bad, over-amplified impression of his ole' buddy Lou. You listen carefully you can hear the gradual progression of how we first stumble upon this pretty sad premise and continue to plunge deeper and deeper into pathos as we go along.
Other times, as you'll hear in segment #9, we hadn't intended on doing an Abbott & Costello skit at all - but the voices we were doing couldn't help but sound familiar. To cap it all off we later recorded the operatic theme song of sorts, "Abbott Better Stop (Your Pickin' On Me)" - which was somewhat of a big hit on garageband.com. Lloyd Goldfine plays Bud Abbott (and other assorted cast members of the old A&C TV show) and I play Lou Costello.


Jzero's Sketchbook Cartoons and Random Thoughts
Back when the internet was still fairly new to some people and .coms were popping up everywhere showcasing the hobbies and pastimes of "normal folk" I decided to throw my hat in the ring and compile my own cartoonist website to accompany a cartooning club I had founded online. My online moniker was Jzero, so from that came Jzero's Cartoonist Corner followed by the website, Jzero's Sketchbook. The club was fun and introduced me to a real talented bunch - as well as serving as inspiration to both myself and Mark - who created his own website which he named Indiana Suede and his Laffs Crusade. The club was closed after about three years - but the Sketchbook and Laffs Crusade sites remained open as sort of cartooning portfolios.



The Music of Dan Ban
If you think Dan's done a lot of work as the driving force behind the Out Of Bodies, just wait till you hear what he's done on his own! For starters you can check out his "Storybook 1" album on broadjam - and many other places on the net including iTunes, Amazon, Spotify, ect.
Click here to check out a promo video I put together for Dan's "The Setting Sun", a song from his "All Rise" album - and drop by the blog to listen to our most recent discovery from deep within the Out Of Bodies archives - Dan Banic's "Gun Hill Road" album!
You can contact Dan at his Facebook page.


The Haunted Barn Movie Museum/Movies To Go
A celebration of classic horror, science fiction and fantasy cinema. Brought to you by curator Joe Vento, The Haunted Barn Movie Museum is a collection of 60 years of monster movie memorabilia, shared with fans, friends, family and assorted ghouls who just drop in.
Note: The Haunted Barn Movie Museum is currently closed, but Joe plans on re-opening it at a new location sometime in 2015. The movie screenings, however, continue throughout the year - and for the time being you can keep on top of those and other announcements here.


Indiana Suede and his Laffs Crusade
The aforementioned cartooning website of Mark's, salvaged from the now long defunct AOL Hometown.